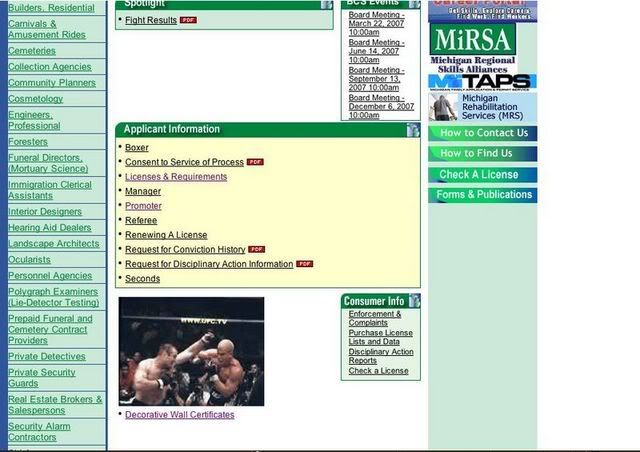 picture taken from the MSAC section of the DLEG site. Why they have a screen capture of Tito Ortiz getting hit is anyone's guess. So is actually getting a pdf of the MSAC rulebook it would seem.
Fight Opinion
has recently reported that the state of Michigan is thinking about banning all of MMA thanks to the action of Bay City's most beloved citizen, Art Dore.
Here is the AP article
Simply put, because Art Dore runs a show, MMA is evil.
When I heard about this, I had a sinking feeling this would happen. In late January, there were posters for Xtreme Cage Combat here in Bay City. They were stuck up from Marquette to the ol' Midland St. area. All advertising "No Holds Barred Jiu-Jitsu Fighting". Things didn't get better When Muskegon raised a big stink and now...here we are. Under scrutinization from a negligent government department because a has been scumbag promoter was running...let's be honest...a Toughman version of an amateur MMA event.
As you can tell, I'm not on either side of this farce. And I have good reasons why.
From Mr. Millben of the BCS:
"Our position has been that ultimate fighting is illegal in Michigan. In some of the bouts, people just box each other. What they're putting on constitutes an unlicensed professional boxing show."
Mr. Millben is going to be awfully busy next month. There's an illegal boxing show happening in Dearborn disguised as a
martial arts tournament
. We don't want any boxing unregulated in Michigan, now do we? The point I'm trying to make is that it's Mixed Martial Arts, Mr. Millben. There are other forms of striking. Not everything is boxing. What's even more interesting is that the MSAC doesn't regulate martial arts events. Millben is trying to ban a sport based on the pretense that people use hands to strike each other for a minute to a round, therefore it must be a boxing match.
Mr. Robert Swanson, director of the Department of Labor and Economic Growth.:
"The potential injuries to participants in these types of contests or exhibitions are often costly and potentially life-threatening."
I'm...I'm sorry. Are we talking about the same sport? I could have swore he was reading the wrong notes. Seeing as MMA hasn't had a death yet and boxing has had
1,344+
deaths so far in this decade. But then again, We're talking about a sport that frowns on verbal or physical tapout. How dare we provide alternative entertainment other then a guy out of his wits trying to out box the guy who knocked him stupid. THAT'S UNAMERICAN!!!
Honestly, do these guys do any research before opening their mouths? You would think that by doing so, they would at least try to creatively beat around the bush. What is it about boxing where even if a whole murder of doctors can bring mountains of evidence that boxing is dangerous, the commissions would deny it as "opinion"? I guess we'll never know.
Don't think I'm done yet. I still have ABhorable...I mean ADoreable Productions to work on.
To start things off, Art Dore is a hypocrite. During the "dark days" of MMA, Art Dore was the front runner of the anti-MMA colition. All to make sure the government got off the back of his miserable Toughman operations. So while MMA was the "bad boy" of the 90's, his cock fights still went puttering along till 2003. After 14 people dead and 5 people turned into vegetables, Dore decides to stop Toughman...to promote MMA. Think about it. This man operated illegal boxing matches in America, left fourteen corpses and five vegetables...and he's still operating. Now he's trying to promote MMA.
from head henchman Gregory Ahrens:
"Amateur martial arts are exempt from regulation of the state. We intend to comply with the law."
Yes, but there's a difference with you Mr. Ahrens. To me, amateur MMA has amateur fighters who are trained in MMA school. So, if this was a true amateur event, you'd have guys from schools like Eastland Combat Club, Dan Severn gym, Griffin-Rawls, Jorge Gurgel BJJ, Strong Style, Playland, etc. etc. Right? Wrong. You put out an ad for fighters on your posters, asking them if "they got the guts" and give them contact information. What's the matter. Afraid to pay REAL fighters with REAL money? How much were you going to give these guys anyway? $50? You probably were going to give the whole "waiver to medical service" bit on the contract too, weren't you?
Let me put it in focus for you if it hasn't bit you yet Mr. Aherns. Amateur martial artists are TRAINED to fight. Guys on the street with beer muscles aren't.
Mr. Aherns:
"Anytime you get into a fight is life-threatening."
Wait a second. Don't you really mean....
"Anytime you get into an Art Dore fight, it's really life-threatening."
Honestly folks. I can write a book on how an Art Dore MMA will go down. You get your blood pressure and alcohol level checked by a doctor that was recommended to Art by a wino from John's Bar who will do something that has nothing to do with medical assistance during your fight. You'll step into a rickety ass cage with someone 50 pounds overweight and hasn't had a lick of fight experience since 6th grade. The ref hasn't had a lick of experience in MMA fights and will have moments of spacing out. Remember that when your eye gets gouged out with a pointed elbow and your face turns to oatmeal after a minute of ground and pound. "But what if I survive?" you say. Forget it. The judges are two guys who know nothing about MMA and Art Dore. Make that three guys who know nothing about MMA. Forget it kid. It's a lose/lose situation. All you get out of it is $50 anyways.
So...how's the future look for MMA. Right now, pretty bleak. The name "Art Dore" is an instant shut off for any government official. Even if Mr. Aherns was true to his word and even cleans the mats when he's done, it still won't do any good. I don't even think Ratner will be able to crack this state government. It might even get criminal if Ratner does try to clear things up. Dore's been known for giving state reps "a piece of the action".
There needs to be some kind of guarantee that scumbag money marks like Dore are stopped. Something to make sure that amateur events are REAL amateur events. Do I see that happening with our current state government? Not bloody likely.